Cynthia and Color Coded Trading
About Cynthia of Day Trade Forex
Cynthia of Day Trade Forex, LLC, started trading stock options on the telephone as a teenager in the late 90's before getting her first pc.
" I started out trading bankrupt stocks on the telephone before I ever got my first pc. My mother taught me how to do this when I was in my late teens. She used to drag me with her to expensive weekend hotel seminars where we learned about price patterns, support and resistance, trend lines and indicators and charting. Most of it went over my head but at home I watched her and learned to do what she did. My first trade ever was buying a bankrupt stock on the telephone that I picked out of the newspaper… it doubled in price in 3 months… I remember how excited I was! This was in 1997… I was hooked… forever. "


" Then we got our first pc in 1998 and the weekend hotel seminars started teaching us how to use new software programs to pick out stocks to trade options. I traded stock options online from about 1999 until I discovered forex in 2002. Forex charting with a forex broker was so much better than stock charting at the time and I thought it was the easiest way in the world to make money! No more delta and time decay! I thought I was in heaven! And I have never stopped being in heaven. "
After getting her 2nd pc in 2000, she then started buying stock option software programs to be able to see stock charts with the indicators and patterns, and options values. The software helped find the stocks that had potential for successful options trades. This was Cynthia's first introduction to trading software.
In 2002 Cynthia discovered the forex market and started trading forex and created her first forex trading system for sale in 2004. This is when DayTradeForex, LLC was born.
By 2007, the MT4 trading platform became available and she started designing trading systems based on trend and momentum.
Cynthia and Color Coded Trading
In 2010, she created her first color coded MT4 trading system as a reaction and dislike of 'spaghetti' charts… tons of squiggly multi-colored lines covering up the charts, making any trend impossible to see… and has since then created many more color coded MT4 trading systems which specialize in teaching retracements otherwise known as pullbacks… the easiest way to trade when you've missed the beginning of the big moves. This makes it possible to scalp or day trade any time of the day or night.
Learning to trade retracements is especially important for U.S., Canadian, Mexican, and all other PST-EST time zone traders in South America, since the biggest moves start in the London session when PST-EST traders are asleep.
One of the problems forex traders face is the fact that the forex market is open 24 hours a day around the globe, and only closes from 5 pm EST Friday to 5 pm EST Sunday.
While this presents a multitude of trading opportunities any time of the day or nite, for most traders, even having only 28 pairs to trade, as opposed to the thousands of stocks available, still makes finding trending tradeable pairs difficult and time consuming.
Cynthia's answer to this problem is to teach how to use a Currency Strength Meter.
The

Currency Strength Meter

makes it easier to find trade-able trending pairs any time. You'll learn how to use it in the PDF with training videos.
" My manual trading systems are based on color coded indicators that make it easy on the brain to make trading decisions. Simple yet powerful, at a glance you'll know what to do!"
"Trading with the trend and momentum has always been the best way to trade and always will be. My trading systems are made with color coded trend and momentum indicators and will work forever in any market condition as long as we have the MT4 platform."
Dedicated to your trading success!
Cynthia
Trading From the Beaches of Mexico since 2010…. You can too!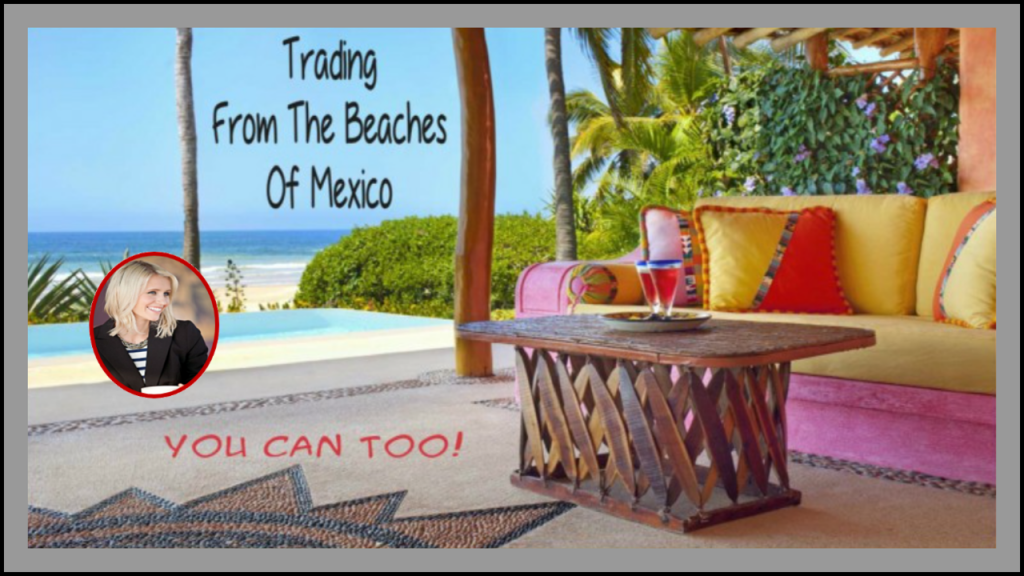 About Cynthia of Day Trade Forex
Visit my main website to see all of my MT4 color coded trading systems:
Visit my Facebook page and give me a 'LIKE'!
https://www.facebook.com/DayTradeForex/
Visit my YouTube channels and give them a big 'LIKE' and Subscribe!
https://www.youtube.com/cancunebiz
https://www.youtube.com/richfxtrader
https://www.youtube.com/nutsforforex
NFA Required Disclaimer: Forex trading may not be suitable for all customers. Forex trading involves a substantial risk of loss. Simulated conditions may differ from real conditions and traders should not necessarily expect the same results from live trading.
DISCLAIMER: The information on this site is for educational purposes only. Trading is risky and is not suitable for everyone. Only risk capital should be used. You are responsible for your results and agree to hold everyone else harmless if you lose. You agree to hold harmless all principles, affiliates, and associates from any trading losses or any other harm due to trading. No representation is being made that any account will or is likely to achieve profits or losses similar to those discussed on this website. The past performance of any trading system or methodology is not necessarily indicative of future results.
Earnings Disclaimer: Results shown are not typical. To achieve these results require discipline, practice, and dedication. Depending on the individual trader, it may take weeks and months of practice to achieve these results. This is not a get-rich-quick scheme. Forex is a legit financial vehicle. With a proper system and strategy, you can build your trading account. Please do not believe that you can become a millionaire in the next day or week or month. It's not going to happen.