Introducing Green Tomatoes For Newbies
Forex Trading System
If you are a person that wants to join the ranks of millions of people world-wide who trade forex from home, then this is the place to get started.
Why forex instead of stocks, penny stocks or options?
Simply, you don't need as much money to get started, you don't have to buy expensive difficult software that has a long learning curve, and there are only 28 currency pairs to choose from, instead of the thousands of stocks that you need to learn the background of before you can choose what to trade, or run the expensive software to help you select what to trade.
So forex is easier to get involved with, period.
You can start trading forex with only $100 (not recommended), but at least it isn't thousands of dollars needed to get started like with stocks or options.  And training is easy via videos.
Learning how to set up and use the free MT4 trading platform is where newbies need to start.
I provide various basic necessary 'getting started' videos to help make the first step easier, which is choosing a forex broker and setting up your MT4 trading platform and how to trade with it.
Newbies Forex Trading System
Next, newbies need a good trading system that is not complex to learn or understand. If you are brand new to forex trading, I made my Green Tomatoes for Newbies just for you!
Cynthia's Trading Story
I started trading stock options in 1998 and found forex in 2002 and made my first forex trading system back in 2004 and learned how to sell it online.  It was literally one of the first online forex trading courses available and I sold it for only $59.  Until then, the only way you could learn forex trading was to travel to an expensive hotel for a weekend and pay $5,000 for a charting package and two days of training. 
Since I started using the MT4 trading platform in 2007, my trading systems have all been created using the MT4 indicators and platform.  I have always kept the prices of my forex trading systems reasonable, so that everybody has a chance to learn.

In 2010, I created my first color coded MT4 trading system, which specializes in all indicators being color-aligned, to help better see the trends and entries and exits. 
I started designing my systems with color coded indicators because I found that the normal way of trading with lots of multi colored squiggly lines just left me feeling confused and stressed and it was very hard to see the trend, whether short term or long term.
Using color coded indicators makes it easier for the brain to process the information that it is seeing.  When all colors agree, it's so much easier to feel confident and to know when to enter… and when colors start to disagree, it's easy to see when to exit.
Up until now, I've made color coded trading systems that were not designed for newbies… but this year I thought that I should rectify that and make a color coded newbies forex trading system that would teach newbies how to trade forex from A-Z via short training videos and give them a simple trading system that would be easy to learn and easy to profit with.
So this year, I've made a

newbies forex trading system that I named

Green Tomatoes For Newbies that is really easy to learn how to use.  It has just the right amount of color-coded indicators and is a simple uncluttered chart.
Here's a short introductory video of how the trading system works:
Here's a screenshot of the Green Tomatoes

newbies forex trading system trading the GbpJpy in a H1 chart… the down trend starts at 9:00 pm EST and goes down for two days:

I manually drew the red lines to show you how you would sell when everything turns red…. that's color coded trading at it's easiest!

Notice the dots… you can use them not only for entry and exit, but to trail your stop.  We always use a stop loss to control our risk initially at the beginning of a trade, and then we keep moving our stop from dot to dot, in order to continue to reduce our risk and then to lock in profit.
At some point, the red dot turns green and if you've been moving your stop dot to dot, you'll naturally get stopped out and your trade will be closed.  You should always try to lock in some profit before going to bed.
In the template, the dot indicator has a popup audio alert for when the dot changes color.  If all the other indicators are the same color, then you can place a buy or sell trade.  At at glance, you'll know what to do.
Here's a screenshot of the EurCad H1 chart with two buy trades: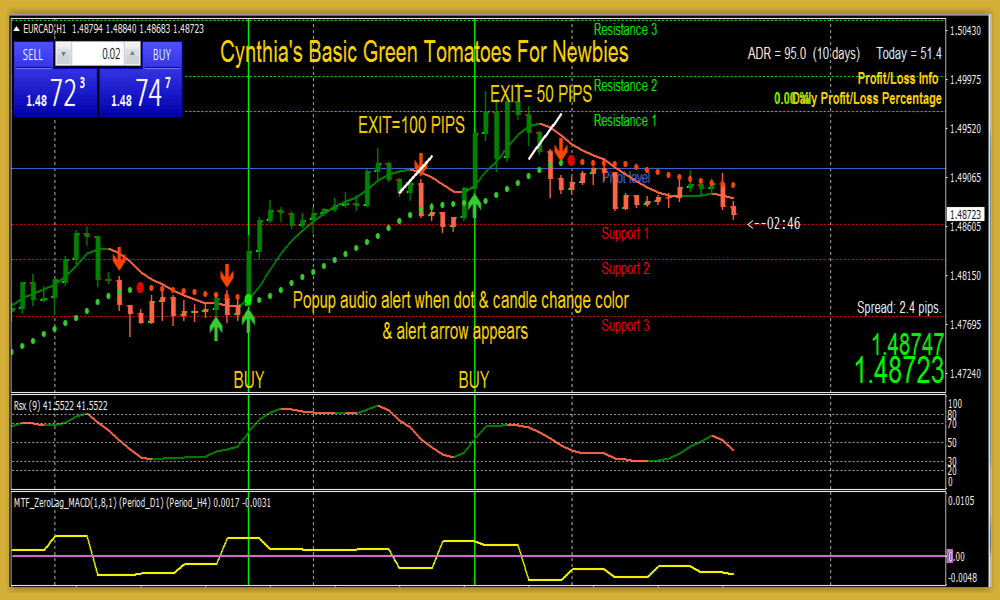 Here's a brief explanation of the indicators in the windows… these are explained in much more detail in the PDF via videos and screenshots.
First, we initiate trades only when all colors agree, the Relative Strength Index is weak for sell trades and strong for buy trades, and when we are trading in the main trend direction of the H4 higher timeframe.
The middle window is the colored RSI (Relative Strength Index) window.  It shows you the relative strength of the trend.  We sell only when the line is red and below the 50% level line… and buy only when the line is green and above the 50% level line.
This means we initiate buy or sell trades only when the momentum of the trend is strong enough to push our trade in our desired direction… using it keeps us out of flat non-moving trades.  When the line changes color it means that momentum of the trend has changed and can be a good early exit point.
The bottom window is a multi time frame MACD indicator for the higher time frame H4 trend, which is the major trend direction.  When the yellow line H4 crosses above the purple line, it's a buy signal.  If the yellow H4 line crosses below the purple line, it's a sell signal.
Paying attention to this indicator will keep you trading with the major trend in the higher time frame H4 direction, which is very important.  If the yellow and purple lines are flat mashed together, the H4 higher time frame is a flat trend and there is no strong major trend.  Trades should not be initiated until there is a clear strong trend in the bottom window.
Because of the color coding, seeing a buy or sell trade opportunity is easy at-a-glance, and is your edge to getting your best entry. 
Trading with the major trend of H4 keeps you on the right side of the major trend and gives you an added edge to realize the most potential out of a trade.

When scalping or day trading, your range potential is so much smaller and your risk is so much greater… why settle for 5-10-20 pips when you can get so many more pips out of trading in 1 hour charts that are in alignment with the major H4 trend? And placing more scalp or day trades equals more risk… each new trade you place means you have a brand new risk to overcome.
So the optimum way to use this trading system is to use 30 minute or 1 hour charts and trade only when there is a clear trend showing in the bottom multi time frame MACD window and the RSI is strong or weak above or below the 50% line.
The 3 support and resistance levels are important because they are fibonacci levels based on the previous day's price action.  These fib levels can be used as your initial stop loss placement as well as your take profit target, for set and forget trades.  You can then manually move your stop from dot to dot to gradually reduce your risk.
It's easy to find trades if you have the charting template on lots of 30 minute or 1 hour good-moving pairs.  In the PDF I teach you what the good-moving pairs are and how to determine that. I even give you session profiles to use that are the best-moving pairs for each trading session:  Tokyo/Asian, Frankfurt, London, NY.
I recommend that you trade the hours that are comfortable for you to trade.  And not sit for your trading session longer than 2-4 hours.  And if in a trade before bedtime, sit with it long enough to make sure you've locked in some profit by moving your stop loss before going to bed… then you can sleep knowing you have your risk under control and you have the potential to wake up to a nice profit, risk-free!

Yes, it's true that the biggest moves of the day happen during the London session, but if that's not a comfortable time for you to trade, then you'll have to trade at another time.  Don't risk your health for money.
These are the best trading times, for 2-4 hours at a time:
2:30 am EST, 4 am Est, 6 am EST, and 9:30 am EST when the US stock market opens.
If none of these times are good for you and you can trade the Tokyo/Asian session, start looking for trades around 7 pm EST with the pound/yen/au/nz cross pairs.  Don't worry, if you don't know what I'm talking about, I explain it all in the training guide PDF. I also give you the best pairs to trade for the Tokyo/Asian trading session.
You can use the Basic system to scalp, day trade or swing trade, in any time frame and with any currency pair, although I highly recommend to trade only in the H1 time frame… it's the easiest time frame to trade without needing to stay at your pc except to place a trade when you get a popup audio alert. 
And it's easy to check on your trade once an hour or every couple of hours in order to move your stop to another dot.  Trading in the 30 minute or H1 time frame in this manner means the most amount of pips for you, with the least amount of stress and time sitting in front of your pc.

All of this is explained with lots of short training videos and screenshots in the PDF after you purchase the Green Tomatoes For Newbies Forex Trading System.
The 

Green Tomatoes For Newbies Basic Trading System

doesn't have any special trade management tools because in the beginning you need to learn how to use the built-in MT4 buy and sell and trail tools.
However, the built-in MT4 trade tools are clumsy to use, especially the stop loss feature, and in my Advanced system which you can buy later, are my own special Trade Tools, including my Trade Placement/Trade Management Button… I literally cannot trade without it.
Setting an initial stop loss and target are two of the most important things about forex trading and is where most newbies fail and falter.
In my Basic Green Tomatoes For Newbies forex trading system
I'll teach you how to set your initial stop loss and target and set up your trailing stop using the default MT4 tools.
My Advanced system gives you my Trade Button which has the buy and sell buttons and it will automatically set your initial stop, take profit and trailing stop, depending upon whether you are scalping, day trading or swing trading, and it will then automatically manage your trade with the built-in trailing stop. 
It has a great feature of moving your initial stop to breakeven at X # of pips and booking 1/2 of your trade as profit, all at the same time, and then continuing to trail.  So not only will you have booked some profit but the rest of the trade is now risk-free! 
The Trade Button is what can make your trades semi-automated and hands-free.  You can go about your day or go to bed knowing your trade is being managed for you.
I also include my Currency Strength Meter in the advanced system, which helps you select the most trending pairs to trade at the moment… it's another indicator that I cannot trade without.  I give you the training videos in the PDF to learn how to use it… it's actually very easy to learn.
The Advanced Green Tomatoes for Newbies will be made available in the member's area after your original purchase of the Basic trading system.  I want you to move forward one step at a time in a logical progression, so that your foundation is firm before you advance to more sophisticated trading tools.
For now, let's get you up and running with the FREE MT4 trading platform. 
The introductory PDF below is FREE to download and in it

I'll tell you my recommended MT4 ECN brokers, and show you in a short video how to download the FREE MT4 demo trading platform and tweak it for optimum performance.
I'll then teach you

the basics of forex trading

using the default MT4 trading template,

and how to place buy/sell/targets/stops/trailing stops.  These are the fundamental first steps.
Once you've learned the basics of forex trading and are up and running with your MT4 demo trading platform, you'll need access to purchase the Green Tomatoes for Newbies MT4 Basic and Advanced Trading Systems.  You'll find these available in the members area and in your Free PDF Guide for a very reasonable cost.
Please enter your info below to access the FREE PDF GUIDE to learn how to download and set up and use the FREE MT4 demo trading platform.
Upon a successful registration for the FREE PDF, you'll receive immediate access to your FREE PDF which has the basic introductory short training videos. 

Please look in your spam for your email.



Register below to get star

ted now!



Watch The Video & Download Your FREE 'Getting Started' PDF Now
Learning How to Trade Forex will be a lifelong skill...get started now!
OR, JUMP STRAIGHT TO THE SALES PAGE!
YES, I'm ready to purchase now!
Dedicated to your trading success!
Cynthia
Trading From the Beaches of Mexico since 2010…. You can too!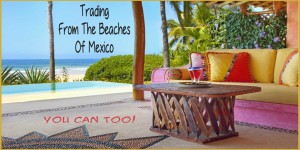 About Cynthia of DayTradeForex
Visit my DayTradeForex Facebook page and give it a big 'Like'!
Visit my main website to see all of my MT4 color coded trading systems:
Visit my YouTube channels, watch some videos and give them a big 'LIKE' and Subscribe!
https://www.youtube.com/cancunebiz
https://www.youtube.com/richfxtrader
https://www.youtube.com/nutsforforex
—– Disclaimers
CFTC RULE 4.41 HYPOTHETICAL OR SIMULATED PERFORMANCE RESULTS HAVE CERTAIN LIMITATIONS. UNLIKE AN ACTUAL PERFORMANCE RECORD, SIMULATED RESULTS DO NOT REPRESENT ACTUAL TRADING. ALSO, SINCE THE TRADES HAVE NOT BEEN EXECUTED, THE RESULTS MAY HAVE UNDER-OR-OVER COMPENSATED FOR THE IMPACT, IF ANY, OF CERTAIN MARKET FACTORS, SUCH AS LACK OF LIQUIDITY. SIMULATED TRADING PROGRAMS IN GENERAL ARE ALSO SUBJECT TO THE FACT THAT THEY ARE DESIGNED WITH THE BENEFIT OF HINDSIGHT.  NO REPRESENTATION IS BEING MADE THAT ANY ACCOUNT WILL OR IS LIKELY TO ACHIEVE PROFIT OR LOSSES SIMILAR TO THOSE SHOWN.
Trading Futures, Options on Futures, and Foreign Exchange involves substantial risk of loss and may not be suitable for all investors. You should carefully consider whether trading is suitable for you in light of your circumstances, knowledge, and financial resources. Opinions, market data and conditions, and recommendations are subject to change at any time. The information contained in this email does not constitute a solicitation to buy or sell by this Company and/or its affiliates, and is not to be available to individuals in a jurisdiction where such availability would be contrary to local regulation or law.
Day Trade Forex, LLC or Cynthia is not giving advice nor is qualified or licensed to provide financial advice. You must seek guidance from your personal advisers before acting on this information. Trading can result in losses. We will accept no responsibility for any losses you may incur, from trading or otherwise. Do not invest more than you can afford to lose.  DO NOT use your mortgage or rent money for investing in your forex trading account.  USE ONLY money that won't affect your lifestyle or security if you should lose it.

Forex Trading is a fascinating vocation and can be highly profitable. Your success is in your hands and no one else's.  Trading in forex is a business and succeeding is directly proportionate to your ability to learn the rules, have the necessary mental and emotional discipline and patience, and use the proper tools and strategies of this business.
Forex trading is not a science, it is more of an art form, a learned experience where there are certain things you need to see and experience. You MUST have the necessary mental and emotional discipline and patience to increase your chances of success. Take your time to develop your personal trading style and methodology.
Earnings Disclaimer:  Results shown are not typical. To achieve these results require discipline, practice, and dedication. Depending on the individual trader, it may take weeks and months of practice to achieve these results. This is not a get-rich-quick scheme. Forex is a legit financial vehicle. With a proper system and strategy, you can build your portfolio. Please do not believe that you can become a millionaire in the next day, week or month. It's not going to happen.
The entire Green Tomatoes For Newbies trading system is proprietary intellectual property of Day Trade Forex, LLC and must not be shared for free OR illegally re-sold on any websites without the legally registered Day Trade Forex, LLC JVZoo OFFICIAL buy button, subject to international copyright laws and DMCA penalties.
© Day Trade Forex, LLC